(Contributor: Rob Jiang, Photo: AP / Bill Ingraham)
Isiah Thomas Biography
Isiah Lord Thomas III is a former American basketball player who played for the Indiana University Hoosiers for two seasons between 1979 and 1981. At Indiana, Thomas played under head coach Bob Knight and the pair led Indiana to win the 1981 NCAA National Championship, defeating the North Carolina Tar Heels. Isiah Thomas left Indiana after his sophomore season and was the number two overall pick in the 1981 NBA draft. Isiah Thomas played for the Detroit Pistons for 13 seasons. Isiah Thomas would go on to be a 12 time NBA All-Star until his final season before his retirement in 1993. With the Pistons, Isiah Thomas won back-to-back NBA championships in 1989 and 1990.
Name: Isiah "Zeke" Lord Thomas III
Position: Point Guard
Nationality: USA
Age

:

62 years

old



Birthday: April 30th, 1961
Hometown: Chicago, Illinois
High School: St. Joseph (Westchester, Illinois)
Height: 6'1″ (185 cm)
Weight: 180 lb (82kg)
Seasons: 2 (1979-1980, 1980-1981)
Jersey: #11
Professional Team: Detroit Pistons (1981-1994)
NBA Draft: 1981 / 1st Round / 2nd Overall
Education: Masters of Education Degree from the University of California Berkeley (Communication and Sports) and Bachelors Degree in Criminal Justice from Indiana University (1987)
Twitter: @IsiahThomas
Awards and Accolades
1979 McDonald's All-American
1980 USA Male Basketball Athlete of the Year
1981 NCAA Final Four Most Outstanding Player
1981 Consensus First Team All-American
1981 NCAA Champion
1982 NBA All-Rookie First Team
1982 NBA's 50th Anniversary All-Time Team
1982-1993 12x NBA All-Star
1983 All-NBA Second Team
1984-1986 3x All-NBA First Team
1984 NBA All-Star Game MVP
1985 NBA assists leader
1986 NBA All-Star Game MVP
1987 All-NBA Second Team
1987 J. Walter Kennedy Citizenship Award
1989 NBA Champion
1990 NBA Champion
1990 NBA Finals MVP
Isiah Thomas's Childhood and High School Recruiting Profile
Isiah Thomas grew up under difficult circumstances. As the youngest of nine children, Isiah Thomas was raised in one of the poorest and roughest neighborhoods in the west side of Chicago. At the age of three, Isiah's father, Isiah Thomas II, left the family and left Mary Thomas (Isiah Thomas's mother) alone to raise all of the nine children. During his childhood, it was not uncommon for the family to not have enough food and a lack of bed space meant that some of the children would have to sleep on the floor.
Mary Thomas did her best to raise her family. In an interview with the Philadelphia Inquirer, Mary Thomas told the story about how she kept a sawed-off shotgun and warned thugs when they were looking for Isiah. When Isiah Thomas came home too late, Mary Thomas ended up grounding him for the entire summer.
The toughness required for Isiah Thomas to survive in Chicago had an impact on who Isiah grew up to be as a person, and more prominently impacted how Isiah Thomas would develop as a player on the court. Isiah Thomas managed to avoid the drugs, violence, and crime that plagued him in the surrounding area.
Isiah Thomas attended a private school in Chicago, Illinois called St. Joseph High School in Westchester, Illinois, which was roughly an hour and a half away from his home in West Chicago. He played under his high school head coach Gene Pingatore and let St. Joseph to the Illinois State finals in his junior year.
Isiah Thomas to this day still has an on-going relationship with Gene Pingatore. One of the qualities that Zeke mentions about his high school coach is Gene's ability to care for his players. Pingatore did a great job of preparing Isiah Thomas in high school both as a player and as a growing adult. That preparation helped Isiah Thomas be successful in the college ranks and beyond. At the age of 80, coach Pingatore won his 1000th game at St. Joseph High School in 2017.
Thomas was largely considered one of the best prospects for college basketball coming out of high school. In 1979 Isiah Thomas was a part of the gold medal team in the Pan-American Games where he represented the United States. Thomas would have played for the 1980 Olympics, but the well documented American Boycott of the Moscow Olympic games would mean that Isiah would ultimately never get an opportunity to play in the Olympics due to a feud with him and Michael Jordan.
Isiah Thomas was recruited by coach Bob Knight. Despite reading a letter that was sent to his home that explained how Bobby Knight would hit his players, he still committed to Indiana University. He thought those rumors were untrue and he believed that spending time in Bloomington to focus on basketball would be good for him. One of Isiah Thomas's brothers that wanted Isiah to go to DePaul actually got into a shouting match when Bobby Knight visited Isiah Thomas at their home. In the end, Isiah Thomas would still commit to playing for the Hoosiers.
Isiah Thomas's Seasons with the Hoosiers
1979-1980 Indiana Basketball Season
---
Bob Knight (9th Season)
21-8 (13-5 Big Ten)
🏆 1st Place Big Ten
🏅 NCAA Sweet Sixteen
1980-1981 Indiana Basketball Season
---
Bob Knight (10th Season)
26-9 (14-4 Big Ten)
🏆 1st Place Big Ten
🏆 1981 NCAA Champions
Indiana University Career Statistics
(Source: Indiana University Athletics)
| Season | G | GS | MP | FG | FGA | FG% | FT | FTA | FT% | TRB | AST | STL | BLK | TOV | PF | PTS |
| --- | --- | --- | --- | --- | --- | --- | --- | --- | --- | --- | --- | --- | --- | --- | --- | --- |
| 1979-1980 | 29 | 29 | 34 | 5.3 | 10.4 | 0.51 | 4 | 5.1 | 0.772 | 4 | 5.5 | 2.1 | 0.2 | 4.7 | 3.5 | 14.6 |
| 1980-1981 | 34 | 34 | 35 | 6.2 | 11.3 | 0.554 | 3.6 | 4.8 | 0.742 | 3.1 | 5.8 | 2.2 | 0.1 | 3.1 | 3.1 | 16 |
| Total | 63 | 63 | 34.5 | 5.8 | 10.9 | 0.534 | 3.7 | 5 | 0.756 | 3.5 | 5.7 | 2.2 | 0.2 | 3.9 | 3.3 | 15.4 |
Isiah Thomas Before Joining the Hoosiers
Isiah Thomas needed to learn how to work with Bob Knight's disciplinarian and strict coaching approach very fast. In fact, before he even got to campus, he played for Bob Knight in the 1979 Pan American Games in Puerto Rico. After a poor series of performances on the court, Bob Knight actually told Isiah that he "ought to go to DePaul because you sure as hell aren't going to be an Indiana player playing like that." Before Isiah was even a freshman on campus, Bob Knight had already threatened to send Thomas back home from the Pan American games. Bob Knight wanted him to understand that he was the coach and he was in charge. No superstar would outshine Bob Knight.
1979 United States Pan American Games
With Isiah Thomas on the team and Bob Knight as the coach, the United States would win the 1979 gold medal at the Pan American games.
Preliminary Round (4-0)
Game 1: United States defeated US Virgin Islands 136 to 88.
Game 2: United States defeated Cuba 85 to 53.
Game 3: United States defeated Brazil 82 to 78.
Game 4: United States defeated Panama 88 to 83.
Final Round (5-0)
Game 5: United States defeated Canada 97 to 76.
Game 6: United States defeated Argentina 99 to 73.
Quarter Finals: United States defeated Cuba 101 to 83.
Semi-Finals: United States defeated Brazil 106 to 88.
Finals: United States defeated Puerto Rico 113 to 94.
Isiah Thomas's Indiana University Career
During the 1979-1980 season, Isiah Thomas instantly became a fan favorite as well as one of the top performing guards to ever play for coach Bob Knight. Although he lacked the height relative to other guards, Isiah's 5-foot-11 to 6-foot-1 body did not limit his hard-nosed toughness and grit that he would show on the court. A lot of the toughness he attributed to growing up on the mean streets of Chicago, Illinois.
As a freshman, he led the Hoosiers to a 21-8 record and a Big Ten Championship. He led his team in scoring (423 points), assists (159), and steals (62). He was the first freshman to be named as part of the Associated Press All-Big Ten team. During lectures after a game day, Isiah Thomas received standing ovations from students.
The Hoosiers finished the regular season in first place, tallying a record of 13-5 in the Big Ten. When the regular season ended, the Hoosiers were selected as a number 2 seed in the Mideast regional. The Hoosiers defeated Virginia Tech in the first round 68 to 59 in E. A. Diddle Arena in Bowling Green, Kentucky. Sadly the Hoosiers could not pull off a win against rival Purdue in the Sweet Sixteen. Thus, the Hoosiers ended their season against their rival in-state team and on their rival out-of-state court – Rupp Arena in Lexington, Kentucky. Isiah Thomas finished the season averaging 14.6 points per game and 5.5 assists per game.
As a sophomore at the age of 19, Isiah Thomas would lead the Indiana Hoosiers to their fourth national title in the 1980-1981 season.
By this time, Bob Knight had grown found of his point guard. Isiah Thomas was named captain of the team and he was now responsible for running the floor. Bob Knight truly trusted his point guard. The two becoming closer and closer friends. Bob Knight referred to Isiah Thomas as "Pee Wee" due to Isiah's height.
Bob Knight seemed to make special exceptions for his sophomore point guard. In fact, when Isiah Thomas got in disciplinary trouble, Bob Knight went out of his way to host a press conference defending his player. Later when Isiah Thomas hit an Iowa player, Bob Knight refused to criticize his player.
The 1980-1981 team was composed of one freshman and a good number of upperclassmen. 10 of the players on the team would eventually be drafted in the NBA, with Isiah Thomas at the top of the list.
The Hoosiers won another Big Ten regular season championship with a conference record of 14-4. They were ranked in the top 10 of the Associated Press polls going into the NCAA tournament. The Hoosiers got selected in as a 3-seed, one seed line lower than the previous year.
Luckily for Indiana, the Mideast regional was this time held in Bloomington, Indiana. Right on their home court, the Hoosiers easily took care of business between the 6th seeded Maryland Terrapins, 7th seeded University of Alabama Birmingham, and 9th seeded St. Joseph's (PA). The Hoosiers would then travel to Philadelphia to compete in the NCAA final four.
Their first round opponent was against the #4 seeded LSU tigers. In a very defensive battle, the Hoosiers held the Tigers to only 49 points in Philadelphia. They learned that their championship opponent would be Dean Smith and the North Carolina Tar Heels. Again in another defensive battle, Indiana University proved to be victorious with a final score of 63 to 50, winning the fourth national championship for Indiana.
The Hoosiers swept the year-end awards including Bob Knight winning Big Ten Coach of the Year. Isiah Thomas won the NCAA Men's Most Outstanding Player award. Ray Tolbert won the Big Ten Player of the Year award.
Isiah Thomas improved in nearly every statistical category except blocks and finished his career with final averages of 15.4 points per game, 5.7 assists per game, 3.5 rebounds, and he shot over 75% from behind the free throw line. On all accounts, he was ready to move on from his Indiana University career and the things he had learned under coach Bob Knight. Isiah Thomas declared for the NBA drafted and he was selected as the number 2 overall pick in the 1981 NBA draft.
Isiah Thomas's Career after Indiana University
NBA Player for the Detroit Pistons (1981-1994)
After his sophomore season at Indiana University. Isiah Thomas declared for the 1981 NBA draft and he was selected second overall by the Detroit Pistons. The Pistons had a conference worst 21-61 record. The Dallas Mavericks, with a 15-67 record, was the league worst. Given the rules at the time, the first overall draft pick was decided by a coin flip between the two teams. Dallas won the coin flip and would end up selecting Mark Aguirre out of DePaul University. Mark Aguirre was a Chicago, Illinois native like Isiah Thomas. Aguirre and Thomas would eventually connect together in Detroit and win two NBA championships together.
The Detroit Pistons signed a four-year contract for Isiah Thomas, paying him $1.6 million dollars over the course of the four years. Isiah Thomas would then go on to spend the rest of his career with the Detroit Pistons and he holds many of the all-time records for the Pistons' franchise.
During Isiah Thomas's rookie season, the Detroit Pistons started him 72 out of 72 games. With an average of over 33 minutes per game, Isiah Thomas produced 17 points per game with nearly 8 assist per game. The rookie was named an Eastern Conference All-Star and started on the All-Star team. After having the worst Eastern Conference performance, the Pistons finished the 1981-1982 season with a final record of 39-43, an improvement of 18 wins relative to the season prior.
Thomas played alongside fellow Hoosier and NCAA Champion Kent Benson. The pair played together in Detroit for at total of five seasons before Kent Benson was traded to the Utah Jazz. Kent Benson and Isiah Thomas both received the Most Outstanding Player award in their respective NCAA Championships. Benson had the advantage with the 1976 team going undefeated that season under head coach Bobby Knight.
During the 1982-1983 season, which was Isiah Thomas's sophomore year in the NBA, the guard ended up with the highest minutes per game and points per game in his career. Isiah Thomas again started 81 of the 81 games that he played in, but he averaged 38.2 minutes per game and averaged an impressive 22.9 points per game for the season. Both of these season averages would be the highest in his career. Despite better performance from Isiah Thomas, the Detroit Pistons would again miss post-season action with a below-500 NBA regular season record.
Finally in Isiah's third season, he successfully led Detroit to their first playoff appearance since the 1976-1977 NBA basketball season. The Pistons would go on a playoff drought of 6 years before they returned back into the post-season in 1984.
With Isiah Thomas as their primary point guard leading the team, the "bad boys" of Detroit went on to go to the playoffs for 9 consecutive years. During that period, the Pistons went to the Eastern Conference Finals and faced a tough Boston Celtics team that included players like Larry Bird, Kevin McHale, Robert Parish, and Dennis Johnson. The 1987 team advanced the furthest in Detroit Pistons history since the professional team's migration from Fort Wayne, Indiana. During Isiah Thomas's career with the Pistons, Detroit went to three consecutive NBA finals between 1988 and 1990. They won two championships back-to-back in 1989 and 1990.
Isiah Thomas in the NBA Finals
1988 NBA Finals
#1 Los Angeles Lakers (4) vs #2 Detroit Pistons (3)
Game 1: Detroit Pistons 105 – Los Angeles Lakers 93
Game 2: Detroit Pistons 96 – Los Angeles Lakers 108
Game 3: Los Angeles Lakers 99 – Detroit Pistons 86
Game 4: Los Angeles Lakers 86 – Detroit Pistons 111
Game 5: Los Angeles Lakers 94 – Detroit Pistons 104
Game 6: Detroit Pistons 102 – Los Angeles Lakers 103
Game 7: Detroit Pistons 105 – Los Angeles Lakers 108
Isiah Thomas averaged 37.4 minutes, 19.7 points, 4.4 rebounds, 9.0 assists, and 2.9 steals per game in the series.
1989 NBA Finals
#1 Detroit Pistons (4) vs #1 Los Angeles Lakers (0)
Game 1: Los Angeles Lakers 97 – Detroit Pistons 109
Game 2: Los Angeles Lakers 105 – Detroit Pistons 108
Game 3: Detroit Pistons 114 – Los Angeles Lakers 110
Game 4: Detroit Pistons 105 – Los Angeles Lakers 97
Isiah Thomas averaged 35.3 minutes, 21.3 points, 2.5 rebounds, 7.3 assists, and 1.5 steals per game in the series.
1990 NBA Finals
#1 Detroit Pistons (4) vs #3 Portland Trailblazers (1)
Game 1: Portland Trailblazers 99 – Detroit Pistons 105
Game 2: Portland Trailblazers 106 – Detroit Pistons 105
Game 3: Detroit Pistons 121 – Portland Trailblazers 106
Game 4: Detroit Pistons 112 – Portland Trailblazers 109
Game 5: Detroit Pistons 92 – Portland Trailblazers 90
Isiah Thomas averaged 38.4 minutes, 27.6 points, 5.2 rebounds, 7.0 assists, and 1.6 steals per game in the series. Isiah Thomas was named the NBA Finals MVP in 1990.
Over the course of Isiah Thomas's career as a Detroit Piston, he was known as a dangerous and very emotional leader. Though small in size, he was willing to stand up to some of the largest players in the league. The entire Pistons team had a unique brand of basketball that involved hard fouls and stonewall defense. These factors led them to their nickname of the "Bad Boys" in the NBA. They were often compared to the Raiders from the NFL who had a similar playing style on the football field.
After two NBA championships, Isiah Thomas decided to retire due to his ailing body as well as injuries that he suffered through. Additionally the emergence of a younger Chicago Bulls team led by Michael Jordan locked down the Eastern Conference. In 1994, Isiah Thomas retired after a torn Achilles' tendon in April, which forced him to retire a month earlier than planned.
Isiah Thomas is the all-time leader in Detroit Pistons history for points, steals, games played, and assists. He also ranks in the top 10 in NBA history in assists (9,061, which averages 9.3 per game) and top 20 in NBA history in steals (1,861). The Pistons retired number 11 for Isiah Thomas.
In 1988, NBA players elected Isiah Thomas to a leadership position above and beyond the game of basketball itself. Isiah Thomas became the President of the NBA Players Association, where he served until the end of his player career in 1994.
Chairman and CEO of ISIAH International LLC (1994-Present)
Isiah Thomas created a holding and investment company known as ISIAH International where he is the CEO and Chairman of the company. ISIAH International consists of a number of various businesses under the umbrella of the limited liability corporation. Their operations vary across the manufacturing of champagne to housing and real estate.
The list of organizations under the umbrella of ISIAH International LLC include:
Mary's Court Foundation: A charity that aims to provide affordable housing. The name Mary's court is named after Isiah Thomas's mother Mary Thomas.
Cheurlin Champagne: Isiah Thomas partnered with Thomas Cheurlin on the brand of french champagne. The "Thomas" connection began when Isiah Thomas discovered Cheurlin champagne after his 1989 NBA Championship victory.
GRE3N Waste Removal: A nationwide waste removal services that supports companies by providing total waste removal solutions. They are based out of Chicago, Illinois.
RE3 Recycling: A recycling company that uses a combination of volunteers and employees to assist with the recycling process. They are based out of Chicago, Illinois.
Real-Estate, Multifamily Living, Property Management, and Affordable Housing: ISIAH International also owns a number of properties and housing areas that are located in the Greater Chicago area.
Executive Vice President for the Toronto Raptors (1994-1998)
After Isiah Thomas's retirement as a player, Thomas had the opportunity to become an executive in the Toronto Raptors expansion team. The team was started in 1994 and Isiah Thomas became a part owner. Given a number of disputes with new management and their directional plans for the team, Isiah Thomas parted ways with the organization in 1998. Isiah Thomas helped the drafting of Damon Stoudamire, Marcus Camby, and Tracy McGrady.
Owner of the Continental Basketball Association (1998-2000)
Isiah Thomas became an owner of the Continental Basketball Association, known as the CBA. The investment group led by Isiah Thomas purchased all of the individual franchises within the CBA for a total of $10 million.
In the process of owning the Continental Basketball Association, Isiah Thomas founded a company called Enlighten Sports, Incorporated, which focuses on full service web-develop and technology delivery with their key industry sector in sports and entertainment.
The CBA wanted to be a cutting-edge league and they were considered a minor league in the United States. Prior to the NBA's creation of the NBA Development League (NBA D-League or NBA G-League), the Continental Basketball Association had an agreement with the National Basketball Association to be their official minor league.
As a visionary, Isiah Thomas wanted his CBA games to be broadcasted online and new websites enabled fans to watch live games, see on-demand shot charts, live stats, and even interaction with the players on CBA teams.
After owning the Continental Basketball Association, Isiah Thomas ran into a number of critical business issues that would eventually lead to the folding of the organization. One of the biggest obstacles was the breaking of the partnership between the CBA and the NBA. The NBA ended up abandoning the partnership and teams were left unsure about payroll and many did not have the ability to pay bills.
In 2001, the Continental Basketball Association declared for bankruptcy. A number of former teams repurchased their franchise and joined a rival league known as the International Basketball League (IBL). Many other CBA franchises were left to fail and eventually fold. Later in the summer of 2001, the rival International Basketball League also folded.
Head Coach of the Indiana Pacers (2000-2003)
When Larry Bird took over the Pacers, he had a strange rule of giving himself a three year maximum limit on the number of years he would serve as the head coach. Sure enough, Larry Bird retired and left his position as head coach of the Pacers after two Eastern Conference finals appearances and one NBA finals appearances.
Succeeding Larry Bird and taking on a Pacers team fresh off of an NBA finals appearance, Isiah Thomas then took on the head coaching position of the Indiana Pacers in 2000. A number of roster changes had put Isiah Thomas in a tough situation as the Pacers seemed to be in full rebuild mode. Dale Davis was traded for Jermaine O'Neal, Rik Smits retired, Chris Mullin returned to his previous Golden State Warriors team, and Mark Jackson signed a long term contract with the Toronto Raptors. Despite the rebuilding, the Pacers managed to snag a 41-41 record on the season but lost in the NBA playoffs first round to the 76ers.
In the 2001 season, the Pacers dealt a blockbuster trade with the Chicago Bulls where the Pacers would end up acquiring Ron Artest (Metta World Peace), Ron Mercer, Brad Miller, and Kevin Ollie. Indiana sent Travis Best, Norm Richardson, and Jalen Rose. Isiah Thomas also brought on Detroit Pistons teammate Mark Aguirre on as an assistant coach. The Pacers again finished similarly to Isiah's first season with a near 0.500 record and they again lost in the NBA playoffs first round. This time, the New Jersey Nets ended the Pacers' season.
In Isiah Thomas's final year as head coach, the team began to develop chemistry with an outstanding performance from Jermaine O'Neal and Ron Artest. The two combined for over 35 points per game of offense. Brad Miller, Reggie Miller, and Al Harrington all contributed an additional 12-13 points per game each. The Pacers advanced again to the first round, but would lose a third consecutive first round NBA playoffs. The lost series against the Boston Celtics would end up being the reason why Isiah Thomas was fired as the head coach of the Pacers, despite a 48-34 record.
President of Basketball Operations for the New York Knicks (2003-2006)
After his time back in Indiana, Isiah Thomas was hired by the New York Knicks to serve as the president of basketball operations. Ultimately, he was unpopular with the Knicks fanbase and he was not successful around the New York Knicks roster. At the end of the 2005-2006 season, the Knicks ended up with the highest payroll in the league, while also holding the second-worst record in the league. Isiah Thomas traded for Chicago's Eddy Curry for two draft picks that eventually turned in to stars Joakim Noah and LaMarcus Aldridge.
Head Coach of the New York Knicks (2006-2008)
Three years later, the New York Knicks fire then head coach Larry Brown and place Isiah Thomas in the head coaching position. He was under strict guidance that if the team did not show "evident progress," Thomas would be relieved from that position. Isiah Thomas coached with a similar tenacity as when he was a player on the Detroit Pistons. He instructed his players to foul hard, which ended up causing a major brawl between the New York Knicks and the Denver Nuggets in his second season with the Knicks.
Despite the expectation of "evident progress," the New York Knicks extended Isiah Thomas to a multi-year contract where the details are still unknown until this day. Once the contract was agreed upon, the New York Knicks took a dramatic tumble out of playoff contention.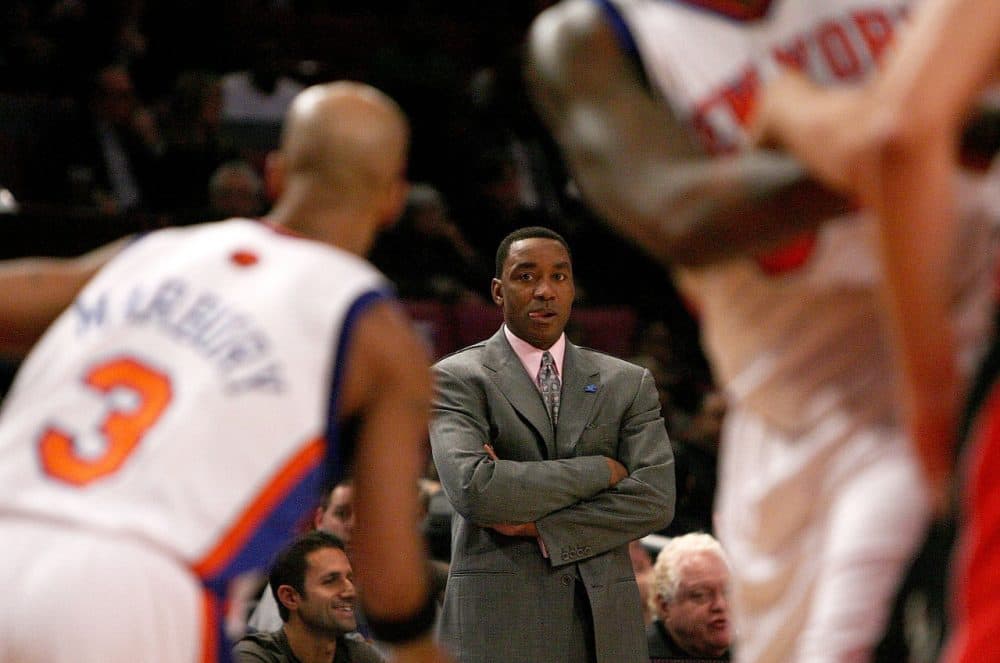 Despite a number of additional roster changes, Isiah Thomas could never establish momentum with the Knicks at Madison Square Garden. In the two seasons that Isiah Thomas served as the head coach, the Knicks finished a combined record of 56-108. Isiah Thomas was reassigned after two years as the Knicks head coach and he was given a consultant position with the New York Knicks.
Head Coach of Florida International University (2009-2012)
Isiah Thomas was hired as the head basketball coach of Florida International University in 2009. He replaced Sergio Rouco who had five consecutive losing seasons prior to his firing. Thomas famously offered to donate his first year's salary as he stated that his reasons to coach the team were not monetary.
He posted a 7-25 record for the Florida International Panthers and in August 6th of 2010, Isiah Thomas announced that he would also be working with the New York Knicks in a consultant position while also holding his head coaching duties at Florida International University. After media backlash, Thomas retraced his announcement and mentioned that NBA bylaws prevented him from holding both positions.
After two more seasons where Isiah Thomas posted an 11-19 record and a 8-21 record, Florida International University parted ways with Isiah Thomas as their head coach. Isiah Thomas has not held a head coaching position since his departure from FIU.
Team President of the New York Liberty WNBA Team (2015-2019)
Despite the sexual harassment charges, Isiah Thomas was then hired as the team president of the New York Liberty WNBA team with controversy behind the decision. Isiah Thomas wanted to become a part owner of the team, but ultimately the league suspended the consideration of his ownership application. He placed his former Piston teammate Bill Laimbeer as the head coach.
Isiah Thomas Professional Career Summary
1981-1994: Detroit Pistons (Player)
1994-1998: Toronto Raptors (Executive Vice President)
1998: NBC (Television Commentator)
1998-2001: Continental Basketball Association (Owner)
2000-2003: Indiana Pacers (Coach)
2003-2006: New York Knicks (President of Basketball Operations)
2006-2008: New York Knicks (Coach)
2009-2012: Florida International University (Coach)
2012 – Present: NBA TV (Studio Analyst Panel)
2015 – 2019: New York Liberty (President)
Isiah Thomas Jerseys
Isiah Thomas Indiana University Jerseys
Isiah Thomas Detroit Pistons Jersey
Isiah Thomas Memorabilia
Isiah Thomas's Personal Life
Marriage with Kendall Lynn
Isiah Thomas met his future wife Kendall Lynn at Indiana University during his time as a Hoosier. Kendall Lynn was the daughter of a secret service agent and a nurse from Westchester. Isiah Thomas pretended to have practice in Bloomington, but instead he proposed to Kendall Lynn on the steps of the Indiana University library. Since their marriage in 1985, the two have had two children Joshua Thomas and Lauren Thomas.
Paternity Lawsuit with Jenni Dones
Just prior to Isiah Thomas's marriage to Lynn Kendall in 1985, a lady by the name of Jenni Dones from Bloomfield, Michigan, filed a paternity lawsuit against Isiah Thomas claiming that she was pregnant with his son. According to newspapers, the two conceived a "love child" in May of 1985. After a tumultuous legal battle between Isiah Thomas and Jenni Dones, they agreed on a settlement where Isiah would pay nearly $3,000 a month until Marc Dones reached the age of 18. His obligations to Marc and Jenni would be resolved after a $100,000 payment on his birthday.
Sexual Harassment Lawsuit with Anucha Browne Sanders
During Isiah Thomas's time with the New York Knicks, Anucha Browne Sanders filed a sexual harassment lawsuit against Isiah Thomas and Madison Square Garden. Her lawsuit claimed that Isiah Thomas sexually harassed her, which began with her initial hiring as an executive for the New York Knicks. Her firing in January of 2006, she claims, was a result of retaliation on her. After Browne Sanders' lawyer told Madison Square Garden about the sexual harassment claims, the corporation put her out of work until the situation was resolved. Madison Square Garden allegedly fired Browne Sanders because she was unable to "fulfill professional responsibility."
In 2007, the jury found Isiah Thomas and Madison Square Garden liable for sexual harassment and penalized Madison Square Garden with an $11.6 million award for Browne Sanders. Despite the ruling, Isiah Thomas was not personally liable. Although Madison Square Garden announced that they would appeal, it was later learned that they settled with Browne Sanders for a total of $11.5 million.
Isiah Thomas Videos and Highlights
Highlights as an Indiana Hoosier
Highlights of Isiah Thomas in the NBA
Interviews and Other Videos of Isiah Thomas
---
Check out the rich history of Indiana Hoosiers basketball!
Every week, we are publishing new articles on former and current Indiana University basketball legends, historical figures, and other IU history. Our goal is to capture the history of the Hoosiers all in one place. Click here to see our current collection of articles on Indiana basketball tradition.
Have a favorite Indiana Hoosier basketball player, coach, or event?
Help grow the Hoosier basketball history books by being a contributor to one of our IU athletics history pages! IndianaHQ is always looking for writers of all ages and experience levels. If you think you have what it takes, drop us an email here or send us a tweet!