(Contributors: Rob Jiang)
Glen Grunwald's Biography
Glen Grunwald is a former basketball player from Chicago, Illinois that played at Indiana University for four seasons between 1976 and 1981. He was part of the 1981 NCAA Championship team led by coach Bob Knight. Glen Grunwald was injured during the 1978-1979 season and received an additional year of eligibility. Since graduating Indiana University, Glen Grunwald has had a very accomplished career in law, business, and athletics. Though he was drafted in the fifth round of the 1981 NBA draft by the Boston Celtics, Grunwald never ended up playing professional basketball.
He has a Juris Doctorate degree from Northwestern and a Masters in Business Administration from Indiana University's Kelley School of Business. He was an executive for the Toronto Raptors along with teammate Isiah Thomas, and he was a vice president of the New York Knicks. His accomplished business career includes being the president and CEO of the Toronto Board of Trade and he is the current President and CEO of the Canada Basketball.
Name: Glen Grunwald
Position: Forward
Nationality: USA, Received Canadian citizenship in 1999
Age

:

65 years

old

Birthday: June 13th, 1958
Hometown: Chicago, Illinois
High School: East Leyden High School (Franklin Park, Illinois)
Height: 6'9″ (206 cm)
Weight: 207 lb (94 kg)
Seasons: 4 (1976-1977, 1977-1978, 1979-1980, 1980-1981)
Jersey: #40
NBA Draft: 1981 / 5th Round Boston Celtics (#115 Overall)
Education: Marketing Bachelor of Science (Indiana University), Juris Doctorate (Northwestern), Masters of Business Administration (Indiana University, Kelly School of Business)
Twitter: @grunwald_glen
Glen Grunwald's High School Career and Recruiting Profile
Out of high school, Glen Grunwald was a high-school All-American that played for East Leyden High School out of Franklin Park, Illinois, which is a suburb west of the city of Chicago. For the East Leyden High School Eagles, Glen Grunwald played under coach Norm Goodman and he was all-state for all four of his years at East Leyden High School. He is the only player in school history to achieve that accomplishment. Grunwald scored 2,355 points in his high school career.
During Glen Grunwald's time playing under Norm Goodman, the Eagles tallied a combined record of 94-9. In the 1974-1975 season, East Leyden High School went 28-1 and they were the State's 2A Sweet Sixteen finalists. They would eventually lose to Maywood Provisio East with a final score of 60-72, which ended Grunwald's junior year of high school.
His accomplishments in high school helped earn him a scholarship with the Hoosiers. Bob Knight and the Indiana Hoosiers were coming off an undefeated national championship run, and with a number of team members leaving for the NBA, the 1977 recruiting class was a key component of the quick reloading of the Indiana Hoosiers program.
Glen Grunwald's Seasons as a Hoosier
1976-1977 Indiana Basketball Season
---
Bob Knight (6th Season)
16-11 (11-7 Big Ten)
1977-1978 Indiana Basketball Season
---
Bob Knight (7th Season)
21-8 (12-6 Big Ten)
🥈 2nd Place Big Ten
🏅 NCAA Sweet Sixteen
1979-1980 Indiana Basketball Season
---
Bob Knight (9th Season)
21-8 (13-5 Big Ten)
🏆 1st Place Big Ten
🏅 NCAA Sweet Sixteen
1980-1981 Indiana Basketball Season
---
Bob Knight (10th Season)
26-9 (14-4 Big Ten)
🏆 1st Place Big Ten
🏆 1981 NCAA Champions
Glen Grunwald's Statistics at Indiana University
| | G | MP | FG | FGA | FG% | FT | FTA | FT% | TRB | AST | STL | BLK | TOV | PF | PTS |
| --- | --- | --- | --- | --- | --- | --- | --- | --- | --- | --- | --- | --- | --- | --- | --- |
| 1976-77 | 26 | 442 | 42 | 112 | 0.375 | 9 | 20 | 0.45 | 58 | 57 | | | 49 | 59 | 93 |
| 1977-78* | 24 | 264 | 27 | 61 | 0.443 | 6 | 10 | 0.6 | 43 | 23 | 10 | 1 | 25 | 40 | 60 |
| 1978-79 | | | | | | | | | | | | | | | |
| 1979-80 | 26 | 208 | 18 | 41 | 0.439 | 7 | 15 | 0.467 | 29 | 16 | 6 | 3 | 17 | 44 | 43 |
| 1980-81 | 27 | 189 | 21 | 41 | 0.512 | 8 | 13 | 0.615 | 33 | 16 | 4 | 0 | 17 | 31 | 50 |
| Total | 103 | 1103 | 108 | 255 | 0 | 30 | 58 | 1 | 163 | 112 | 20 | 4 | 108 | 174 | 246 |
*Grunwald did not participate in the 1978-1979 season due to a left knee injury in the summer of 1978.
Glen Grunwald's Career at Indiana University
Glen Grunwald joined the Hoosiers after the 1976 Championship run by Bob Knight and the Hoosiers. He was part of an important class for Bob Knight as a number of seniors like Bobby Wilkerson, Quinn Buckner, Tom Abernethy, Scott May, and Jim Crews graduated and left the team. Returning junior Kent Benson was the undisputed leader of the team and he was named captain.
In his first year with Indiana, Glen Grunwald had one of his most successful years with the Hoosiers. He scored an average of just 3.6 points per game, but he added 2.2 rebounds and 2.2 assists per game. The forward played in 26 games for the Hoosiers, but did not start in any. The Hoosiers would eventually finish a disappointing 16-11 for the season – one of coach Bob Knight's worst seasons with the Hoosiers. Although the roster turnover provided foresight into the potential concerns of the team, with a legendary coach like Bob Knight, Indiana fans still expected better.
Just a season later, Bob Knight helped craft another top Hoosier team that would eventually reach the NCAA Sweet Sixteen. Glen Grunwald started 11 of the 24 games that he played in, but he only averaged 11 minutes per game, a six minute decrease from his previous season. For the remainder of his career at Indiana University, Grunwald would serve as more of a reserve role for the Hoosiers' front court.
During the summer of 1978, Glen Grunwald injured his left knee playing summer basketball. The devastating injury required Grunwald to have his knee surgically reconstructed; however he could never move the same way as he did before. Grunwald sat out for the entire 1978-1979 season with the Hoosiers in order to help focus his time and energy on recovery.
In 1979, Grunwald return back into action and continued to provide back up minutes for Bob Knight and the Hoosiers. His experience allowed him to coach the younger players on the team and his basketball intellect allowed him to continue being a valuable of Bob Knight's team. One of those younger players happened to be Isiah Thomas, a fellow Chicago native. The two had a lasting bond that would extend well beyond their years at Indiana University during Glen Grunwald's professional career.
The 1980-1981 season capped off Glen Grunwald's five years as a Hoosier basketball player. As one of the team captains along with good friend Isiah Thomas, the pair led the Hoosiers to Indiana's fourth national championship. Grunwald still did not fully recover from his injury, so he was not able to help the Hoosiers on the court as he would have liked.
The Hoosiers would eventually go on to win the 1981 NCAA Championship title over North Carolina. Although Glen Grunwald played in the Final Four game leading up to the championship, Bob Knight went with a shorter bench for the 1981 NCAA Championship game. Grunwald became an NCAA champion in his final year as an Indiana Hoosier.
Glen Grunwald's Career after Indiana University
Continuing Education at Northwestern and at Indiana University (1981-1986)
Although he was gifted athletically for basketball. His 6-foot-9 frame also hosts an incredible intellectual. Upon graduation from Indiana University, Glen Grunwald continued his education at Northwestern University. Adding to his Bachelors of Science degree in Marketing from Indiana University, Glen Grunwald wanted to become a practicing attorney so he went to law school at Evanston, Illinois. He received his Juris Doctorate degree from Northwestern University's Pritzker School of Law in 1984.
In parallel, Glen Grunwald also worked to receive his Masters of Business Administration from Indiana University's Kelley School of Business. He received his MBA in 1986 with a focus area in Finance. These two degrees from two prestigious schools paved the way for a successful and ambitious legal and business career.
Attorney at Winston & Strawn LLP (1984-1989)
After graduating from Northwestern University, Glen Grunwald worked as a corporate attorney for Winston & Strawn LLP. He took the role as a Corporate Associate and he is a registered bar member of the states of Illinois and Colorado.
Denver Nuggets (1990-1993)
With the Denver Nuggets, Glen Grunwald oversaw the legal and human resource departments. Grunwald also took on legal duties with the Denver Nuggets as a corporate attorney for the Denver Nuggets and he served as General Counsel.
Toronto Raptors (1994-2004)
After a stint with the Denver Nuggets, Glen Grunwald once again found his Indiana teammate Isiah Thomas and the two teamed up to work on an NBA expansion team, the Toronto Raptors. Grunwald served as the vice president for legal affairs and he was the assistant general manager. Like his role in Denver, Glen Grunwald also served as General Counsel.
In 1997, he took over as the general manager when Isiah Thomas was unsuccessful in taking on majority ownership of the team and broke up the relationship with the team.
Grunwald is responsible for a number of successful moves for the Toronto Raptors, including coordinating an iconic trade for NBA veteran Vince Carter on draft day in 1998. The Toronto Raptors traded fourth pick Antawn Jamison in the 1998 NBA Draft for fifth pick Vince Carter selected by the Golden State Warriors.
Glen Grunwald had always wanted Vince Carter as he believed that Carter was the overall best player in the 1998 NBA Draft class. With rumors spreading that the Raptors wanted to draft Antawn Jamison, a player that Golden State highly sought after, Grunwald played along with those rumors.
As he and the Raptors organization began posturing for Antawn Jamison, they eventually came to an agreement with the Golden State Warriors. The agreement involved the Raptors drafting Antawn Jamison with the fourth overall pick. The Warriors would draft Vince Carter with the fifth overall pick. After both picks were made, Golden State would trade Vince Carter for Antawn Jamison and pay additional cash to the Raptors.
The deal was kept secret from other teams, since if either player got drafted before Golden State or Toronto got to them, the transaction no longer be valid. Not only did Glen Grunwald pick the best player in the 1998 NBA Draft, he also got him as the fifth pick which reduced the overall cost of drafting Vince Carter to the Raptors franchise.
Other great moves by Grunwald during his tenure with the Raptors included his handling of the Damon Stoudamire trade, the trading of Marcus Camby for Charles Oakley, and the drafts of Chris Bosh and Morris Peterson.
Grunwald was also part of the first the teams first NBA conference semi-finals. Under his leadership, Grunwald led the Raptors to three straight playoff appearances between 2000 and 2002. Coached by Butch Carter then Lenny Wilkens, the Raptors finished with records of 45-37, 47-35, and 42-40 in those seasons.
After injury-riddled seasons between 2002 and 2004, the Raptors missed back to back playoffs. In an attempt to shake up the roster, Glen Grunwald traded away starting center Antonio Davis which received backlash from Toronto head coach Kevin O'Neill. Eventually, Glen Grunwald was fired from his position and was replaced by Jack McCloskey as interim general manager of the Toronto Raptors. Rob Babcock would take over the role full time.
Toronto Board of Trade (2004-2006)
Glen Grunwald continued to remain in Canada to grow the city of Toronto, which he began to love. In fact, he actually obtained his Canadian citizenship in 1999. As the president and CEO of the Toronto Board of Trade, the largest local business organization in Canada, he was able to work heavily with the local communities within the city of Toronto. He worked with business as well as other social groups to broker influence as a chamber of commerce. With over 13,500 members, the Toronto Board of Trade helps drive policy change that are supportive of local businesses within the Toronto area.
Grunwald managed a staff size of 372, which included both full-time and part-time employees that worked for him. He had an annual operating budget of $16 million and he was responsible for developing a new strategic plan for the Toronto Board of Trade, which transformed the organization into a stronger advocate and leader of the Greater Toronto Area's business community.
New York Knicks / Madison Square Garden (2006-2013)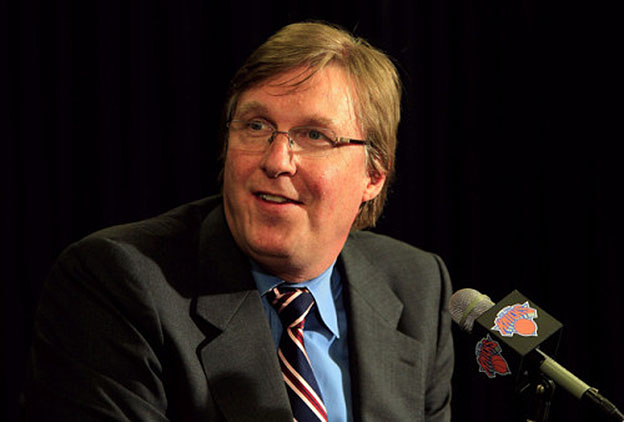 Isiah Thomas and Glen Grunwald would connect again for the third time. This time, the two would be meeting in the Big Apple. In 2006, Grunwald joined with the New York Knicks and the parent company of Madison Square Garden. Isiah Thomas hired Grunwald to fill the role of vice president for Basketball Operations.
By 2011, Grunwald took on the role as interim general manager after Donnie Walsh stepped down from the position. After just a single year with the interim tag, he was then made the full time general manager of the New York Knicks. Grunwald not only took the Knicks to the playoffs in each of his years as general manager, but he also gave Knicks fans their best season in 25 years.
Glen was also responsible for picking up guard Jeremy Lin off of waivers. The undrafted guard from Harvard University would later end up being one of the most talked about stories in the NBA. The term "Linsanity" was coined from Jeremy Lin's impressive display of play, specifically shooting.
Grunwald began building the roster as he saw fit, which included making multi-team trades with the Raptors to acquire forward Andrea Bargnani and Metta World Peace. The 2013-2014 roster for the New York Knicks was starting to come together.
However in 2013, Glen Grunwald was reassigned to an advisory position. Owner James Dolan made a surprising move to demote Grunwald from the General Manager position, electing to go with Steve Mills, who was part of the New York Knicks organization previously. With Mills as the general manager, the Knicks finished their first season under him with a record of 37-45.
McMaster University (2014-2019)
In 2014, Glen Grunwald took on the position of Athletic Director for McMaster University located in Hamilton, Ontario, Canada. His publicly revealed compensation for the position was only $150,000 per year, which is significantly less than the salary received from NBA executive positions, which are easily in the millions of dollars.
Regardless, Glen Grunwald wanted to make a difference at McMaster University. During his four year tenure with the university, he was able to turn an annual operating budget deficit into a surplus, increased the amount of revenue received via sponsorship, doubled the size of the athletic and recreational facilities expansion, and led varsity teams to numerous championships. At the same time, he assisted with improving the care for athletes and the development opportunities that they have.
Canada Basketball (2018-Present)
In the Fall of 2018, Glen Grunwald accepted the position of President and CEO of Canada Basketball, an organization that represents Canada nationally in the sport of basketball. They are considered the National Sporting Organization and they are also recognized by the International Amateur Basketball Federation (FIBA) and the Canadian Government as the sole governing body of the sport of amateur basketball in Canada.
I'm honored and proud to have this opportunity to work with Canada Basketball. This is an exciting time for the sport in our country and I look forward to working with the entire basketball community to continue the tremendous progress the sport has made here at all levels.

Glen Grunwald during the acceptance of his role with Canada Basketball
The non-profit organization is intended to represent all basketball interests and provide guidance and advisory in all areas of the sport of basketball for the country.
Canada Basketball sought additional revenue streams and wanted to improve their recent trend of poor performance at the national levels, having not made the FIBA world champions for nearly a decade. Given Glen Grunwald's historical track record of being able to recover organizations and transform them, his hire became a big part of Canada Basketball's transformation vision.
Grunwald replaced the former President and CEO Michele O'Keefe, who left the position in order to return to her roots as an athletic director at Niagara College.
One of the very first initiatives for Grunwald in his newly held position was to build a partnership with the Canada Elite Basketball League, or CEBL. The partnership included a multi-part collaboration that would make the CEBL's summer league become the national organizing body's official First Division professional league.
Memphis Grizzlies (2019-Present)
In April of 2019, Glen Grunwald was announced as a Senior Advisor to the Memphis Grizzlies in the franchise's basketball operations department. Rich Cho was named vice president of basketball strategy in the same announcement. As part of a broader organizational restructure, the two were asked to join the organization to assist with the transformation of their front office.
Additionally, Glen Grunwald wanted to find a better opportunity for retirement. Given the 30 athletic sports at McMaster University and a growing demand of activities on the athletic director, some believed that Glen wanted to find a softer landing pad as he prepares for retirement. Grunwald is serving in an advisory capacity.
HoopDome (2006-Present)
As one of his side activities during his time in Canada, Glen became a co-founder and chairman of HoopDome, which is a multi-gymnasium basketball facility located in Downsview Park, Toronto. The dome is a 42,000 square foot facility that opened up on March 30, 2007. The goal of creating this facility was to increase the availability of the sport of basketball in Canada, a goal that Grunwald is very passionate about.
The dome has cages that are supposed to mimic the unique outdoor and urban feel of basketball courts in American; however, the dome allows for players of all ages to play in the comfort of the indoors with
Canada's harsh and cold climate. HoopDome offers a number of programs including leagues, tournaments, camps, corporate events, and more.
Videos of Glen Grunwald