(Photo Credit: IndianaHQ)
Most Indiana fans have seen nearly every dunk highlight and scoring videos of Romeo Langford. Especially when he committed to the Hoosiers on April 30th, 2017. (Well, maybe everyone except Juwan Morgan until just recently).
And Romeo fully deserves all of the attention.
The most important add for the 2018 team surely came during the week of April 30th, but the second most important may have came in the same week. When Romeo picked among three hats in front of thousands of fans, Archie and staff were at a less crowded affair, eating a steak dinner at Little Zagreb in Bloomington. The guest for the evening: Evan Fitzner.
The 6'10" San Diego big would eventually commit to Indiana on Thursday.
The last time Indiana utilized a graduate transfer was the 2015-2016 when Indiana added former-Wolverine Max Bielfeldt. Indiana that season finished with 27 wins, Big Ten champions, and advanced to the Sweet Sixteen.
Given that there is not nearly as much available game footage on Evan Fitzner relative to Romeo, we decided to look a bit in more detail at his game and what he can bring to the Hoosiers.
Background
Fitzner is the son to former Stanford basketball player Mark Fitzner and former Hawaii volleyball All-American Cheri Fitzner. His older brother played as an offensive tackle at Kansas State.
Evan Fitzner was a three-star recruit out of Francis Parker High School in San Diego, California. He was the league MVP during his senior of high school and enrolled at St. Mary's in June of 2013.
Time at St. Mary's
Fitzner played in three seasons at St. Mary's and ended up with an impressive 88-17 record for years that he did not red-shirt. He shot over 40% behind the arc in each of his three years and ranged between 70%-86% at the charity stripe.
As a freshman, he did not see time on the court and was granted a red-shirt for that season.
During his sophomore year, Evan Fitzner started all 35 games for the Gaels. He averaged 23.4 minutes per game and his three ball went in at a clip of 41%, making him one of the top shooters in the WCC conference. He averaged 8.7 points per game and 4.4 rebounds per game. A 29-6 record for the Gaels would get them an invite to the NIT, where St. Mary's eventually lost in the NIT quarterfinals against a Valpo team led by Bryce Drew
Although he still started every game, his usage declined during his junior year as the Gaels moved away larger line up in preference for "small ball." He averaged only 15.1 minutes per game but still shot at 42.9% rate behind the arc. St Mary's finished 29-5 on the season, losing to Sean Miller's Arizona team in the second round of the NCAA tournament.
His final season at St. Mary's had about the same stat line as his junior season. 15 minutes per game, 40% three point shooting, and around 5 points per game. Notably, Evan shot his highest free throw percentage at 86.4%. The Gaels finished 30-6 and lost in the NIT quarterfinals against Utah.
How will Evan contribute to Indiana?
Shooting
Evan will immediately provide additional scoring support for the Hoosiers. With shooting such an important component that was missing from last year's team, Archie Miller and the recruiting staff went out and picked out just what the doctor ordered.
As mentioned, Evan shot over 40% behind the arc and the below clips show just exactly what makes him so effective.
He has a very quick release and in St. Mary's screen offense, Evan was able to use that very effectively. To enable his quick release, he uses a one-and-a-half step shooting mechanic. There is just an ever so slight pause as he pulls the ball up from his waist and aligns the ball with the rim. You can contrast his shooting form with a single-motion shot (Steph Curry), which is quicker but typically not as consistent for most human players. Ray Allen uses a two-motion shot, which is more traditional and presumed to be more accurate, but has a slight lengthier release. In the latter, the pause when the elbows are up is accentuated.
Evan is also taller than most wings guarding him, thus creating difficulty for the defender to alter Fitzner's shot. You will not find many 6'10" wings or shooting guards that are quick enough to gap-close on Fitzner if he is preparing to shoot. No. 21 Evan Fitzner finds open space and moves into the pick. He makes it easy for the ball handler to set the screen by bringing his defender into his teammate. He has just the slightest window of opportunity when the defender is recovering, but Fitzner squares up properly and punishes Gonzaga with a quick release three ball that he drains. Fitzner here sets a screen for the dashing guard. As the defenders get confused for a brief moment, he finds an opening to step out behind the arc. Again, his quick release makes the defender pay since the defender is unable to close the gap in time. A better angle to watch his shooting mechanics. Just a quick dribble that enables him to square up properly to the basketball. Aim, shoot, splash. Even if the defender gets to him, Evan's height allows him to shoot over him.
Floor Spacing
One of the important side effects of having Fitzner on the floor is the ability to spread out the offense. Fitzner has a strong awareness of where team members and opponents are located, and he is able to slot himself in an open space. He gets himself open and also helps reduce traffic for his teammates that want to penetrate.
Now Fitzner does almost nothing in this play, but it's important to watch. Fitzner merely spots an opening behind the arc and moves there. The ball handler in the post for St. Mary's clearly can bully his defender if he is not double-teamed, but the double-team does not come. Fitzner has scared his defender from shots earlier in the game and the guard is unwilling to leave Fitzner to assist in the paint. In a match up against Washington in the NIT Second Round, Evan sits in the middle of the Huskies' zone. As a big man, as a shooter, and a dribble-driver, Evan commands the attention of all five defenders on the floor and frees up his team. Although he misses the shot, he effectively breaks up the zone in this play.
Here is the moment where all five Washington players are dedicating at least part of their attention to Fitzner. Look at how open his teammates are in this freeze frame.
What still has room for improvement?
Holding Ground
Even with his 6'10" frame, Evan tends to get pushed around a lot in the paint. While he has the mobility to help jump on the baseline should a wing or guard make a cut, Fitzner will have difficulties against traditional bigs.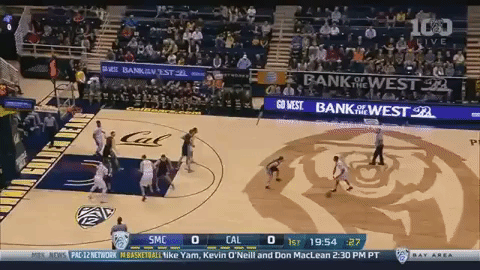 Here Evan gets lost in the paint and gets pushed by everyone, including his teammate who easily knocks him over with just a brush. The footing is a bit loose and he is not in the proper athletic stance to gain and maintain positioning. (He is the player that starts at the top right of the painted blue floor boards and moves immediately to the interior.) A quick move from Jonathan Williams (number 3 on Gonzaga) allows him to zip right by Evan with little resistance. A small shove gets Evan out of the way. The shooter makes the shot, but Fitzner would not have been able to optimally position himself for the rebound.
Rebounding
As a side effect of his ability to maintain space in the paint, his rebounding is an area that Archie will hone in on. Freddie McSwain last year was not the biggest, but he seemed to understand how and when to time his jumps. On the other hand, Evan has the physical assets but needs to improve his ball sense in order to stay on the floor.
Also noteworthy is that St. Mary's zone scheme consistently made Evan look behind his back or to his side in order to monitor opposing players. You can tell that Evan is often more worried about who is behind him, instead of what is happening right in front of him at the basket. When he turns and realizes that the ball has been released from the shooter's hand, he becomes late to react and ultimately loses the positioning to grab the board. In this sequence, the Gonzaga shooter runs right by Evan with very little regard and is able to time his jump much better to grab the board. Fitzner does not properly box out his side of the floor. The result is a rebound and a clock reset. Evan slides into the help side and returns back to his home base when his teammate recovers on the ball. Gonzaga passes the ball in to the box, and Fitzner is unable to prevent the dish. The post player misses but Jonathan Williams again is able to come from behind and rebound through Fitzner relatively easily.
Defense
Archie Miller's packline defense reduces the amount of touches that bigs get in the paint. One of the pillars of his scheme is to prevent the feed down low as much as possible. If Evan plans to guard a player in the post, then he will surely have to front the big unless he can physically push him around in the block. As witnessed in the earlier clips about holding ground, that may be tough to do.
If the ball gets in the paint, then Evan's role in the packline will to be to jump on him right away, whether or not the ball is on his side of the paint. You will see double-teams in the post, and possibly even triple-teams if a guard comes to help out as well.
If a guard penetrates, the objective is to pack the box and to force them to either one of the baselines. This is another part of his game that Evan needs to develop. When guards attack straight on, Fitzner has a tendencies to come in strictly from the side and attempt at a swipe. Rarely does he challenge the driver face-to-face.
He can certainly create turnovers, but if he misses the swipe, the ball handler will either get fouled (by Fitzner) or have a relatively easy time getting to the rim. BYU drives the ball right into Evan. Here he tries for the swipe at the ball but jumps a bit early from the side. Unable to locate the ball in time, Fitzner misses and the penetrator gets past. A quick up-and-under by the guard allows him to get to the rim with ease and score two more for his team. Here is an example of it working. Fitzner easily reaches out with his two hands and umbrellas the defender's shot. A tough shot for the referees to judge at full speed, but Evan comes away with a block and initiates the offense in the other direction. At top of the key, an Arizona player blows by Evan with a twitch move. Fitzner is not quick enough to recover and unable to defend the shot.
Evan's Influence
With five freshman recruits, Evan's experience injects an instantly-serviceable veteran to the team. More important than his basketball experience is his winning experience. He not only understands how to play college ball, but he knows what it takes for teams to win.
Setting the benchmark at Max Bielfeldt's level of impact would be unfair for any graduate transfer; however, we saw first hand how much an experienced player can influence a younger team during the 2015-2016 season. If Evan can even bring a percentage of that impact, Indiana will be a better team as a result.
Fitzner surely has areas to grow, namely on the defensive-side of the ball and in the paint, but Hoosier fans should be very excited to have this sharpshooter play for the candy stripes. Archie Miller has an offensive weapon on the pine that he can flexibly use at his disposal in Evan Fitzner.