(Photo Credit: IndianaHQ)
Updated May 15th, 2019: The NBA Draft is right around the corner with only about 5 weeks to-go. We all know by now that New Orleans has won the Zion lottery, but the rest of the NBA franchises in the top 14 also now know their destiny in the 2019 NBA draft. And now here come the mock drafts. So, where does Romeo Langford's NBA draft prospects stand today?
Let's break it down.
The Measurables
Romeo Langford made a concerted effort to put on weight during the offseason prior to going to college. After his senior year, he weighed somewhere in the 190 pound range. After a summer with Indiana's strength and conditioning coach Clif Marshall, Romeo Langford mentioned that had put on about 15 pounds. Currently he is listed as 215 pounds, according to Indiana University Athletics.
Height: 6'6″
Wingspan: 6'11"
Weight: 215 pounds
Statistics
At Indiana University, Romeo Langford averaged 16.5 points, 5.4 rebounds (4.0 defensive rebounds; 1.4 offensive rebounds), and 2.3 assists per game. Langford shot 44.8% from the field and 27.2% from three. His free-throw percentage was 72.2%. Langford committed only 1.9 personal fouls a game and averaged 2.1 turnovers per game.
Under Archie Miller, Romeo Langford got his fair share of offensive usage. With an average of 34.1 points per game, Romeo Langford was used on over 25% of possession and 25% of shots according to Kenpom. Romeo Langford was not only one of the highest used freshman in the Big Ten, but generally one of the highest utilized players in the league.
Draft Profile
On the Court
Langford is a shooting guard. Plain and simple. This actually works to his advantage during the drafting process because of today's combo-position fad. Many teams are looking for a pure shooting guard that is not a tweener. If you look at this year's batch of prospects, many of the shooting guards are of the combo variety, including Cam Reddish (SG/SF), Nickeil Alexander-Walker (PG/SG), Keldon Johnson (SG/SF), Kevin Porter (SG/SF), and KZ Okpala (SG/SF). This certainly separates Langford. While he may one day grow into being able to also play small forward, there is no question that right now he is a shooting guard.
In terms of his strengths, Langford has many tools that translate well to the next level. He is a very instinctive scorer that can put the ball in the basket in a variety of ways and can score from all 3 levels. He can be effective driving in the lane and shows aggressiveness getting to the basket. As a result, he is good at drawing fouls. He averaged 6.1 free-throws a game, which added up to 194 attempts on the year. This led the team and was 58 more attempts than Juwan Morgan who had the second most free-throw attempts for the Hoosiers.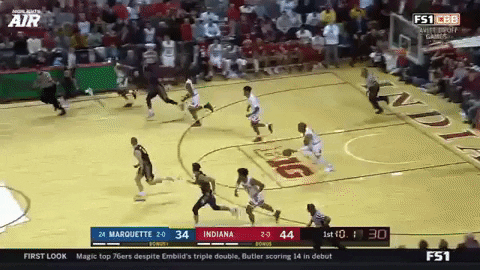 Although his shooting has not been consistent enough, his form isn't bad. Despite these consistency problems, he has shown the ability to shoot off the catch and off the dribble. He even has a nice midrange game. He is athletic, but is a basketball player first and athlete second (which is a good thing. He isn't one of those players that is an incredible specimen but have no idea what to do on the floor). Langford has a good basketball IQ and has a great feel for the game.
He has an almost 7-foot wingspan, which allows him to be able to get his shot off over tall defenders, including forwards and centers. Langford uses his wingspan to penetrate to the rim and it enables him to create acrobatic shots. Similarly, his size allows him to be a very good rebounder for a guard (and we all know how the NBA LOVES rebounding guards).
Another impressive quality is that he never is out of control. His game is very fluid and he always appears unflappable. Romeo has a number of developed moves. His smooth game often hides his true athletic ability because the moves he makes on the court seem so effortless. The game truly looks slowed down when you watch a player like Langford, partly because he seemingly has no wasted motion on the court.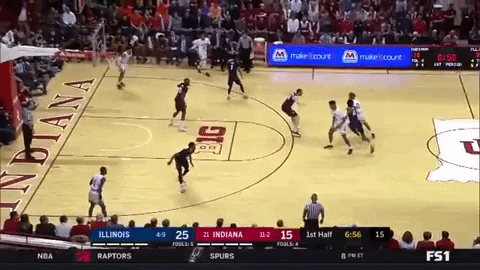 On the defensive end, he is pretty solid but somewhat inconsistent. Langford has shown the ability to lockdown the best player for opposing teams; however, at the NBA level there will be some concerns on if he can keep up with the quickest or match up against the strongest. His 6-foot-11 wingspan often makes up for some of Langford's defensive deficiencies. There was a lot of chatter about Romeo's ability to be a two-way player, but it is safe to say that Romeo has improved his defensive awareness and positioning after spending significant time with defensive-minded Archie Miller.
As for his areas of improvement, shooting and ballhandling headline the areas of potential concern. It's no secret that Langford wasn't consistent enough shooting the ball (particularly from three) at Indiana. Though he had slightly better numbers at New Albany High School, Langford still only shot around 40% from behind the arc. Especially in today's game, Langford will need to improve his shot to be most effective in the pace and space world. However, much of his shooting woes are potentially explainable. It's important to remember that he injured his thumb right before the Duke game and never fully recovered during the season.
Langford himself told ESPN, ""I think it's fair to say that we never got a chance to see me at my best at the college level, especially since I've been playing with basically a cast on my thumb the whole season… Obviously that throws off your shot. Even though I didn't shoot as I'm capable of, I feel like I shot the ball pretty well in the second half of the season."
Moreover, he added, "I tried to keep going with the injury instead of shutting it down, just because I wanted to experience college basketball and I wanted to be there for my teammates and help them be all that they can be. I think that shows NBA teams how tough I am.… I look forward to showing NBA teams all the things that they didn't see with me during the college basketball season."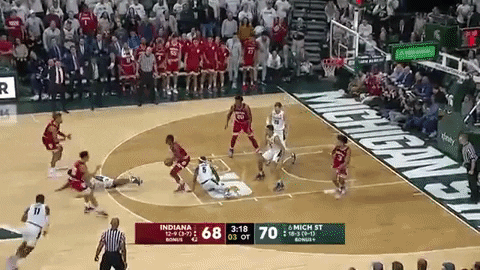 Similarly, his shooting can also improve under the tutelage of NBA coaches. In high school, his shot selection was an issue at times but wasn't a major concern in college. Still, he could definitely continue to improve his overall efficiency. Langford will also need to continue to improve his free-throw shooting (although this can be said for almost every player entering the draft, as it has become a bit of a lost art). He does well getting to the line at a productive rate but needs to convert more of these opportunities. Another area that can be improved is his ballhandling. In particular, when driving or trying to split a double-team, he has a tendency to lose control of the ball.
Langford similarly tends to be right-hand dominant with the ball. He will have to learn to utilize his left more often, otherwise this tendency will get snuffed out at the next level. While he has quick feet and always competes on both ends, he also has to be more consistent defensively. Finally, one of his strengths can also occasionally be seen by some as a weakness and that is his unselfishness. Some believe he is a little bit too unselfish. But, I think that's a "problem" that most teams would welcome with open arms.
Mentality
The success of Langford's season varies depending on who you ask. Similarly, scouts also appear to have a wide range of opinions on the IU shooting guard. If you look at the raw numbers and tape, Langford had a great year. Unfortunately, his expectations were through the roof and, at times, unreasonable. Coming out of New Albany, Langford was one of the top 10 recruits in the nation and was as decorated as they come (McDonald's All-American, Mr. Basketball, etc.). With these expectations, many feel Langford never really asserted himself and was too passive.
Langford has a Kawhi-like demeanor which can sometimes be interpreted by scouts as a lack of intensity or occasional disengagement. Thus, some have knocked Langford for this while others brush it off as a result of his college system or merely just the fact that he was a freshman. Either way, the interview process will be important to quash the fears of those who share this sentiment.
Conversely, many even find this trait advantageous as he stays calm-and-collected under pressure. Romeo does not let the highs get too high or the lows too low. His father, Tim Langford, has been working to build the stoicism in Romeo Langford ever since he was a little kid. As the 2018-2019 campaign unfolded, Langford began to show more and more of his personality but still kept his grace under pressure.
The Mock Drafts
It's been an up-and-down season for him, but if you're confident he can become a passable 3-point shooter (like the fellow mid-range savant Khris Middleton, a player he's often compared to, has), Langford has a high ceiling. There are concerns about his body language; he's utterly emotionless on the court — but he could also be the type of player who kills it at May's combine in Chicago.

Kyle Boone of CBS Sports
It is still very early in the process, as the combine, personal workouts, and the finalization of the draft order all could substantially change the current landscape of the draft projections. However, at the current moment in time, Langford's landing spot appears to be somewhere between the late lottery and mid-first round.
With Romeo Langford signed with agent Happy Walters and Catalyst Sports, he will be now focused on the 2019 NBA Draft combine where he was just one of 66 players invited to the event in Chicago. The combine takes place May 16 and 17.
The 2019 NBA Draft will be held on June 20th at the Barclays Center in Brooklyn, New York. Television coverage of the NBA Draft will be provided by ESPN.