Now that Indiana's roster for next year has settled in their new homes across North Dunn and classes for summer school has already started, July and August are two short months before the start of the fall semester. Here's a look at what the players and staff are up to for the remainder of the summer and what key events fans should keep and eye out for.
Get ready Indiana fans, once the summer nears its end, the excitement for Hoosier Hysteria 2019 (an event that typically takes place in late October or early November) will once again build up.
According to NCAA bylaws, the earliest date for playing their first regular season game will be November 5, 2019, which we expect the Hoosiers to have a game on or around that date in order to take advantage of earlier practices. As the schedule unfolds, you can find the latest information on our schedule page.
---
Indiana Basketball players midway through summer classes
With summer classes have started back on May 4, 2019, the players have less than a month before taking final exams. The official last day of summer school is July 26, 2019. The players will have a one-month break prior to re-starting their classes on August 26, 2019.
During the summer, skills training, conditioning, and performance-training are the three main basketball activities that the team can engage in formally. The NCAA has restrictions on the number of hours each week the players can participate. The Indiana staff is limited to requiring only eight hours per week on these activities. At most only four hours of that time can be spent on instructor-led skill training.
The remainder of the time, the Hoosiers are able to practice, shoot, weight-train, and play on their own, but those activities would be done on their own time, without the influence of any members of the coaching staff. With a court in their apartments and a scooter-ride away from Assembly Hall or Cook Hall, the players have as much easy access to practice as they need.
The NCAA also tries to limit how much the team practices schemes and sets for the upcoming season. The reasoning behind these rules are to create an equal level of playing competition across all schools who may not have the same access to staff members and amenities.
While the players are able to re-create in-game situations, the following are restricted during the offseason:
Setting up offensive or defensive alignments
Chalk talks;
Discussions of game strategy;
Reviewing game films or videotapes;
Activities using basketball equipment; or
Observing student-athletes in any basketball activities even if such activities are not arranged by the institution's coach.
These activities can resume once regular-season practice is allowed to begin, which is set at 42 days before the first regular season basketball game in the 2019-2020 season.
The players also have involvement in recruiting as well. First, the players serve as player-hosts for any official visits that take place. The Hoosiers have had a number of visits including 2020 Matt Cross and 2020 Trey Galloway among others.
Additionally the Hoosiers have also been seen on the recruiting trail in support of the Indiana staff. Of course this is not anything that the staff is allowed to mandate, but if the players are free and have nothing to do, why not go help get talent that you could be playing next to in the years to come?
---
Recruiting continues to be a top priority for the staff
More interesting activity is taking place with the Indiana coaching staff during the months of July and August. The Hoosiers will need to find another third assistant that can replace Ed Schilling, who recently left the Indiana basketball program.
Given that Ed Schilling was a major part of Indiana's recruiting plan in prior seasons, the Hoosiers will need to find another assistant that can pick up where the recruiting left off and someone that can also support the Indiana offensive game plan.
While it continues to seem that Indiana's 2019 roster has been largely set, it will be interesting to monitor what other opportunities come up for the Hoosiers. As it stands now, the majority of the Indiana staff's attention has been clearly allocated to the 2020 and 2021 pipeline.
In addition to continuing to build relationships with the players that IU is actively recruiting, there will be two major recruiting / evaluation events taking place in the month of July.
July 11th – July 14th: Certified non-scholastic events
These events will be open with an evaluation period. Certified NCAA events will allow coaches to watch prospective students. Typically these include the finals of events such as the the Nike EYBL Peach Jam in North Augusta, South Carolina, and the adidas Summer Championships in Birmingham, Alabama.
adidas Summer Championships: Birmingham, Alabama
NIKE EYBL Peach Jam: North Augusta, South Carolina
UAA Finals: Atlanta, Georgia
NY2LA Next Level Invitational: Mequon, Wisconsin
*These are a sample list of events taking place that weekend and may be subject to NCAA certification.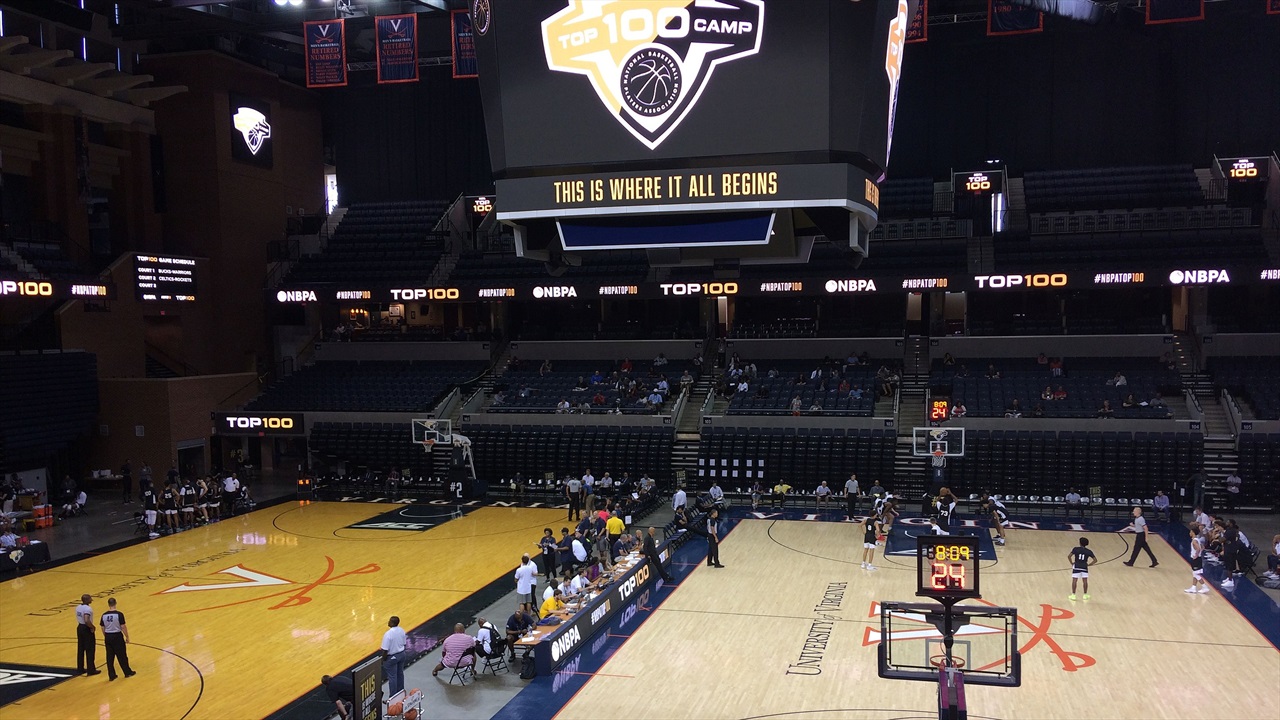 July 23rd – July 28th: New youth development camps hosted by the NCAA at NCAA schools
Between July 23rd and July 28th, new youth development camps will be hosted by the NCAA across a number of college sites. There will be 2 three-day camps split during this time and as many as 2,400 students – comprised of rising seniors, juniors, and select sophomores – will be invited. A committee of NCAA and NABC members will select participants in May. The NCAA will cover expenses for the student and one guardian to attend these events.
Players will receive instruction from top non-Division I professional and high school coaches. College coaches will be allowed to attend for evaluation and recruiting during this camp.
South Region: University of Houston
Midwest Region: University of Illinois at Urbana-Champaign
East Region: University of Connecticut (Storrs)
West Region: Grand Canyon University (Phoenix)
The month of July has been designated largely as a month of dead period where no in-person recruiting contact can take place and no official or unofficial visits can take place. The exceptions of that time includes a quiet period that lasts through the fourth of July week and the two evaluation periods that surround the events mentioned above.
During the entire month of August through September 9, the NCAA has instituted a quiet period where visits can take place, but coaches are not allowed to visit players at their schools or at their homes.
For a more detailed breakdown of the calendar, definitions, and the different events, you can see our full off-season recruiting calendar guide here. An updated calendar for the 2019-2020 recruiting period has been posted by the NCAA, which is available on their website.
---
(Featured Photo: IndianaHQ)