The month of July under new NCAA recruiting rules still remains as one of the most important recruiting months during the summer off-season. Two national weekends of hundreds of prospects across certified shoe-brand circuits and new NCAA-driven player camps will be available for college coaches and their recruitment efforts. Without a third IU basketball assistant, the Hoosiers could use critical help to scout for Indiana during these two important recruiting weekends.
Given the recent departure of Indiana's third assistant Ed Schilling, the Hoosiers are losing a significant player developer and recruiting asset from the program.
You can read more about Ed Schilling's departure and what the Hoosiers are losing in an assistant coach.
The current search for IU basketball's third assistant coach position
Since the Hoosiers have not yet made any announcements on a third assistant, one can presume that the program did not have a "short list of candidates" ready to assume Ed Schilling's vacant position on the Indiana basketball staff. There could be a number of reasons why the situation shook out the way it did, but it's simply speculation from anyone outside of Ed Schilling and the administration.
Given the heavy recruiting importance of the off season, the Indiana Basketball program certainly understands the critical of finding someone that can not only make an immediate impact (perhaps, have a number of established relationships with upcoming pipeline), but also someone that can quickly fill the recruiting gap before it widens.
Would the program like to find someone in the next week? Certainly, and that could very well happen.
However the Hoosiers need to make sure that this new assistant checks a number of boxes. The third assistant coach has the be the best person for the role, not just the best-timed hire. A recent case study on an assistant coach having significant impact to a program is Michigan's Luke Yaklich.
Upcoming major recruiting weekends in July 2019
As mentioned, the month of July hosts two major evaluation periods (July 11-14 and July 23-28) that allow coaches to recruit during Certified Non-Scholastic Events and Youth Development Camps. During these periods, coaches are allowed to engage on certified off-campus events mentioned above as well as host visits on campus, but they are not allowed to make any in-person, off-campus contact.
These two weekends are major on the recruiting scene. Given the sheer number of players that will be available to watch, evaluate, scout, and recruit, the staff needs to maximize and use all of their resources at their disposal. A third assistant would be a major asset during these two weekends.
July 11th – July 14th: Certified non-scholastic events
These events will be open with an evaluation period. Certified NCAA events will allow coaches to watch prospective students. Typically these include the finals of events such as the the Nike EYBL Peach Jam in North Augusta, South Carolina, and the adidas Summer Championships in Birmingham, Alabama.
adidas Summer Championships: Birmingham, Alabama
NIKE EYBL Peach Jam: North Augusta, South Carolina
UAA Finals: Atlanta, Georgia
NY2LA Next Level Invitational: Mequon, Wisconsin
*These are a sample list of events taking place that weekend and may be subject to NCAA certification.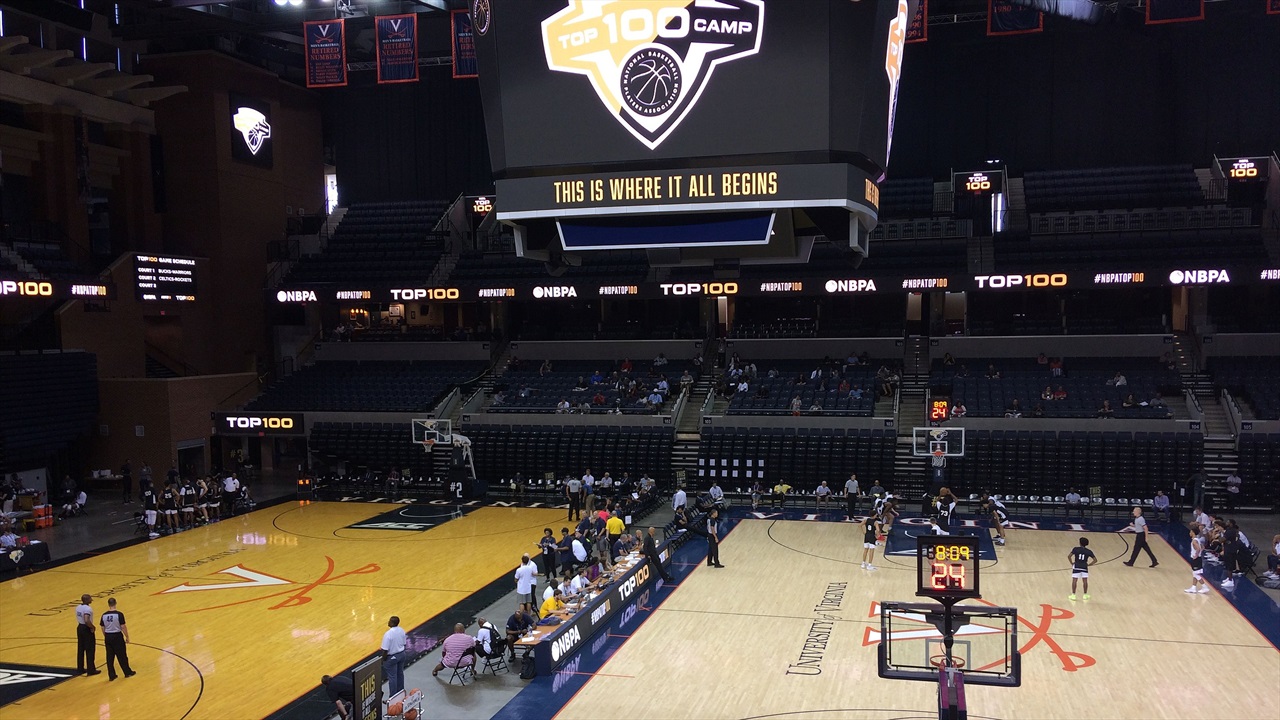 July 23rd – July 28th: New youth development camps hosted by the NCAA at colleges
Between July 23rd and July 28th, new youth development camps will be hosted by the NCAA across a number of college sites. There will be 2 three-day camps split during this time and as many as 2,400 students – comprised of rising seniors, juniors, and select sophomores – will be invited. A committee of NCAA and NABC members will select participants in May. The NCAA will cover expenses for the student and one guardian to attend these events.
Players will receive instruction from top non-Division I professional and high school coaches. College coaches will be allowed to attend for evaluation and recruiting during this camp.
South Region: University of Houston
Midwest Region: University of Illinois at Urbana-Champaign
East Region: University of Connecticut (Storrs)
West Region: Grand Canyon University (Phoenix)
The month of July has been designated largely as a month of dead period where no in-person recruiting contact can take place and no official or unofficial visits can take place. The exceptions of that time includes a quiet period that lasts through the fourth of July week and the two evaluation periods that surround the events mentioned above.
For a more detailed breakdown of the calendar, definitions, and the different events, you can see our full off-season recruiting calendar guide here. An updated calendar for the 2019-2020 recruiting period has been posted by the NCAA, which is available on their website.
What happens if an assistant has not been found?
Of course, the recruiting trail does not pause for Indiana to find an assistant. IU needs to find someone or do everything in their control to not miss a beat in terms of watching, scouting, and building relationships. If the Hoosiers are unable to find a third assistant before either of these weekend, you can expect the following to occur.
First, the Hoosiers will need to find someone on their program that can serve as a temporary third assistant. Assistant Athletic Director and current Indiana Director of Basketball Operations Bill Comar is most likely the candidate best to support the team during this time. Comar served as an assistant coach at Loyola (Illinois) as well as at Dayton before moving to an operational role on the administrations.
Second, Archie Miller, Tom Ostrom, and Brusier Flint will all have to work overtime. Recruiting high schoolers is all about connecting, reconnecting, and continuing to connect. Indiana's staff has to watch players, get some form of acknowledgement that they are there in person, and also talk to them via text or phone.
Quite frankly, even with a new assistant hired, the current staff still has to continue to maintain all of the relationships that they individually own as well as take over recruiting responsibilities left by Schilling. A new assistant will be unable to pick up on the existing IU relationships right away — their immediate value is more on bringing in new relationships.
Expect lots of late night takeout ordering and the Indiana private plane to get extended miles as the coaches bounce around significantly in July.
---
(Featured Photo: IndianaHQ)